Not only study and be successful,if the job is right for you and try your best you will get reasonable result
In May of 2001, HRD-Korea launched an ambitious qualification examination information system dubbed Q-Net. Q-Net is a premier qualification management/operation system providing better opportunities and career advancement in the knowledge and information based society of the 21st century.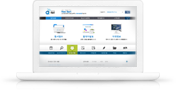 Greetings from president of HRD-korea
Entrusted to develop Korea's human resources, HRD-Korea provides comprehensive services for the development of vocational skills, qualifications testing, skills promotion, international cooperation and foreign worker employmen support.